What is SUDC?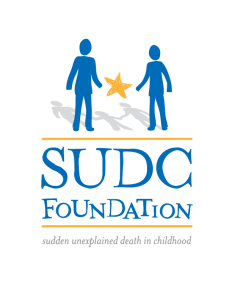 Sudden Unexplained Death in Childhood (SUDC) is the sudden and unexpected death of a child over the age of 12 months, which remains unexplained after a thorough case investigation is conducted. This must include: examination of the death scene, performance of a complete autopsy, and a review of the child and family's medical history. SUDC is a diagnosis of exclusion – given when all known and possible causes of death have been ruled out.
How often does SUDC occur?
According to the Center for Disease Control (CDC) 2013 statistics, those affected by sudden unexplained death occurred in:
▪ 223 children ages of 1-4 years,
▪ 28 children ages of 5-9 years,
▪ 29 children ages of 10-14 years, and
▪ 107 teens ages of 15-19 years
The incidence of SUDC in toddlers is about 1.4 per 100,000 children.*
* based on codes R96-99 from CDC Wonder Database (2013)
SUDC Foundation
The Sudden Unexplained Death in Childhood (SUDC) Foundation is tasked with providing a centralized resource for information, support and advocacy. It serves families and professionals affected by the tragedy of SUDC, and promotes awareness of SUDC in communities.
Grief Services for Bereaved Families
The SUDC Foundation provides support for those who have lost a child to an unexpected death. The families can register their information through sudc.org and will receive access to a spectrum of available grief services, including accurate information regarding SUDC and medical information, access to private online email groups specific to bereaved family members, Peer Support Program and opportunities to enroll and participate in SUDC related research initiatives.
Research into SUDC
Visit The SUDC Foundation's website to learn more about current research into uncovering the mystery of Sudden Unexplained Death in Childhood.
SUDC Data Enhancement & Awareness Act
The Sudden Unexpected Death Data Enhancement and Awareness Act (H.R. 669) was passed unanimously in the Senate and the U.S. House of Representatives and signed into law by Pres-ident Obama on December 18, 2014. The Act will build upon existing activities at the Center for Disease Control and Prevention (CDC) to improve the quality and consistency of data collected during the death scene investigations and autopsies. The objective is to better inform prevention and intervention efforts related to stillbirths, Sudden Unexpected Infant Deaths (SUID) and SUDC.